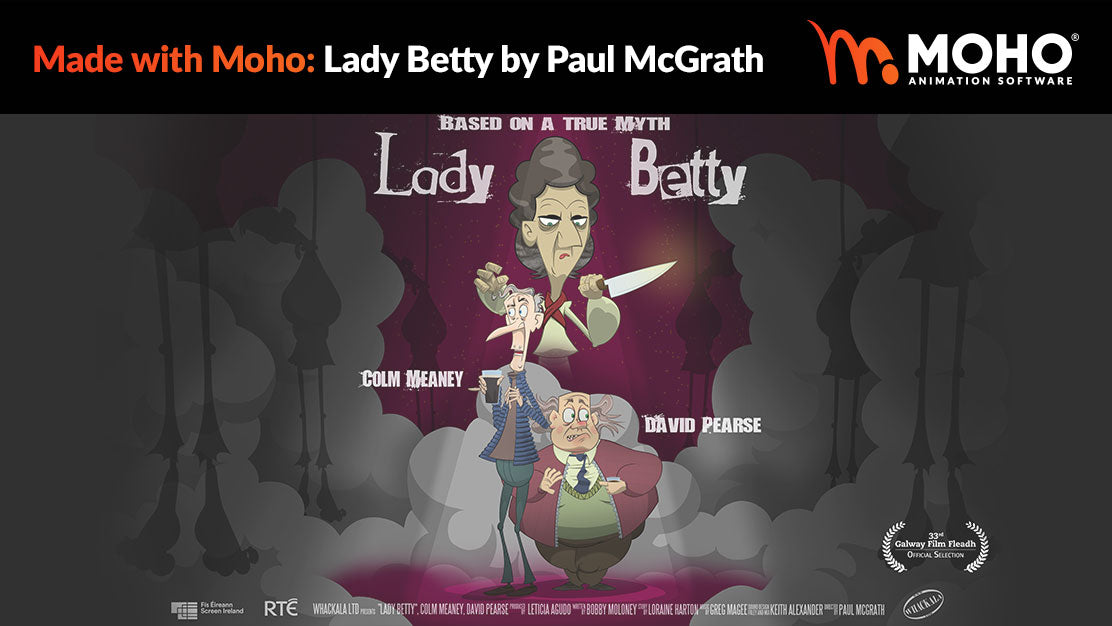 Made with Moho: Lady Betty by Paul McGrath
Mario Quinones @
Lady Betty (@ladybettyshort) is a short animation made entirely in Moho 13, a quirky dark humoured short about Ireland's first and only hang-woman. It features the voice talents of Colm Meaney & David Pearse, and was Financed by Screen Ireland and the Irish national broadcaster RTÉ.
Lady Betty was rigged and animated in Moho 13 by Director/Animator Paul McGrath (Insta: @pauldoodles Twitter: @Paul_doodles) and animator Gustavio Baía (Insta: @gus.m.baia).
Made remotely and taking a little longer than normal, you know, Covid, at last, it's about to have its world premiere at the Galway Film Fleadh 2021.
There is a live screening outdoors, and it's also part of two online programmes.
https://galwayfilmfleadh.eventive.org/
About the process by his director Paul McGrath
I have been using Moho since version 7, I think, and it's gone from strength to strength with each successive release.
When story boarding Lady Betty and designing the characters, I made notes for myself on how I would rig the bodies for certain actions and lip sync using bones and smart bones. I would have loved to be able to use Vitruvian bones when making the film, but, instead I had to switch bone layers, which was a little messy sometimes but got the job done.
When animating, all the character rigs and props were in a folder on the cloud, which both Gustavo and I had linked our custom content folders too. So, we both had access to the latest characters and it was easy to update props etc. easily updating the characters and scenes as we made changes to the master rig.
We shared scenes over a shard folder on One Drive, so seeing previews and giving notes was just a matter of opening the latest version in OneDrive and pressing play.