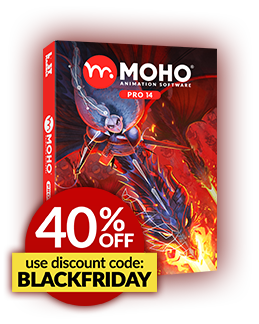 Moho Pro 14
Moho Pro is perfect for professionals looking for a more efficient alternative when creating quality animation! Make your animation projects come to life!
Includes language support for: English, Spanish, French, German, Japanese, Russian, Chinese (Simplified), Chinese (Traditional), Hindi, Arabic, Catalan, Farsi, Korean, Portuguese and Turkish.
Supports macOS and Windows. Be sure to check the System Requirements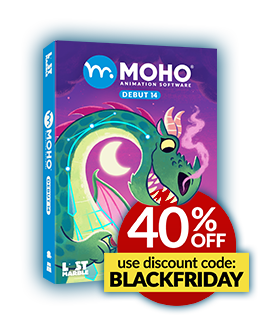 Moho Debut 14
The fun, quick and affordable way to create animation! Moho Debut is the ideal solution for first-time animators, hobbyists and digital artists.
Includes language support for: English, Spanish, French, German, Japanese, Russian, Chinese (Simplified), Chinese (Traditional), Hindi, Arabic, Catalan, Farsi, Korean, Portuguese and Turkish.
Supports macOS and Windows. Be sure to check the System Requirements
Take a look on what our community of riggers and animators have created with Moho Pro!

Advanced Features FOR 2D ANIMATION
The most powerful 2D rigging system
Moho's rigging system is intuitive and fast. You can rig your own characters in minutes. Create skeletons for humans, animals or any creature or object you want to animate. Work with Forward and Inverse kinematics. Set target bones, add Pin bones for special control, animate the hierarchy, add Constraints, add automatic squash and stretch to any bone, Copy and Relatively Paste animation between different characters with similar skeletons and much more!
Discover why Moho's rigging system is the 'secret weapon' of many artists and animators!
Smart Bones
Smart bones are a revolutionary way to make your characters behave exactly in the way you want. Your characters' joints will bend with no distorsions. You can also use Smart Bones as control levers to animate facial expressions, face rotations or even entire body turns! The best part is they are extremely easy to set up. Simply select the bone you want to transform into a Smart Bone, create an action for it and animate the elements in the way you want. Now every time you animate that bone, everything else will move exactly as you planned!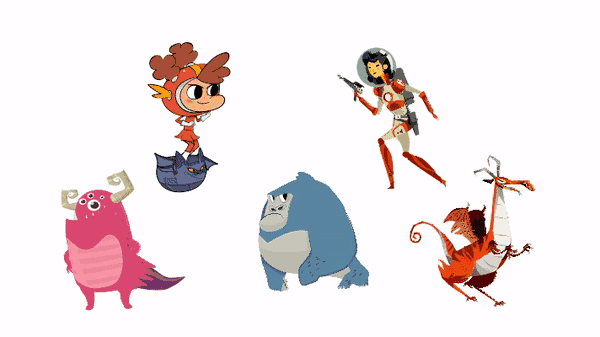 Drawing tools optimized for animation
The unique vector system in Moho is optimized for animation and rigging, keeping the shapes consistent while they move. Moho vector tools allow you to draw directly inside the software. You can also add brushes and effects to easily obtain natural results. Everything can be animated: curvature, linewidth, exposure, curve profiles, paths, masks, gradients, opacity, point colors… Moho's flexible tools will empower you to animate any style!
New Graphics Engine (New in Moho 14)
Optimize your GPU utilization for enhanced performance! Moho 14 introduces an advanced graphics engine with a substantial internal upgrade. This transformation greatly refines performance and brings the canvas remarkably close to the eventual render. Experience real-time previews of effects such as Blur, Shadow, Noise, Opacity, Deep Masking, Smooth vectors, gradients, and blending modes, all while enjoying seamless interactions with the software's newly improved graphics engine.
Greatly improved drawing and frame-by-frame tools
(New in moho 14)
Get an enhanced drawing experience alongside the introduction of the new Graphics Engine in version 14. Unleash your creativity with newfound freedom in sketching and painting. The Freehand, Blob Brush, and Eraser tools are responsive and intuitive. Quickly fill your drawings with the new Multi-Stroke Fill and Connect and Create. Moho seamlessly integrates its powerful rigging system with more traditional tools, so you can use the best of both worlds.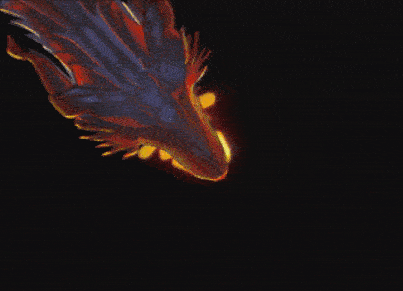 Liquid Shapes (New in Moho 14)
Create impressive 2D special FX in minutes. Liquid Shapes are a new way to draw and animate soft shapes. Combine, Subtract, Intersect, Blend and animate shapes in unique ways. Create elemental animation or use Liquid Shapes to rig simpler but more powerful and expressive characters. Liquid Shapes work in real time. Animating Fire, Smoke, Explosions and Water is more fun and easier than ever.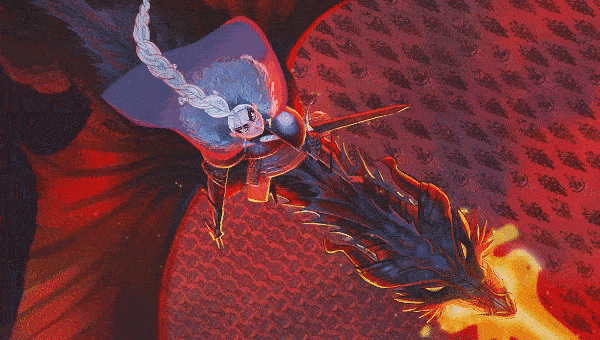 Curvers (New in Moho 14)
Moho 14 is all about fluidity, smoothness and precision! The new Curvers and Compressible Curvers allow you to bend vectors and images in any way you want. Animate tails, hair, snakes, tentacles with ease and total control. But not only that, you can also create several Curvers in one layer, Rig the Curvers with Bones and Smart Bones and even animate the Line Width of the Curver to make parts of the drawing thinner or thicker during the animation.
Photoshop files import with real-time connection
Create and modify your illustrations in your favorite software: Photoshop, Clip Studio Paint, Procreate or any application you prefer, then save your art as PSD and import it in Moho. All the layers will be there, ready to rig and animate!
Automatic Mesh creation and Quad Meshes to animate exactly in the way you want!

Meshes are now even more powerful and easier to use. Just draw the details you want to animate and let Moho do the rest! Also, with the new Quads, animate your artwork in true perspective by simply attaching a four points shape to it. Bringing your bitmap illustrations, pictures and vector drawings to life has never been easier! New meshes open an entire world of possibilities.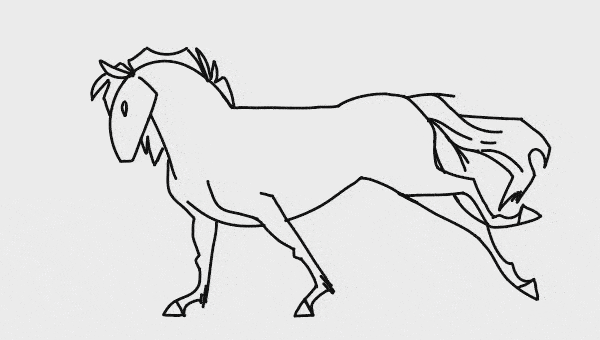 New Freehand Styles (new in Moho 14)
Create your own styles or quickly select between different drawing line styles such as Wet Ink, Charcoal, Gouache, Rough Ink, Watercolor and others. Using styles allows you to control the exact look of your drawings and also edit many drawings at once, with the ability of changing the Color, Line Width, Brush settings and Effects.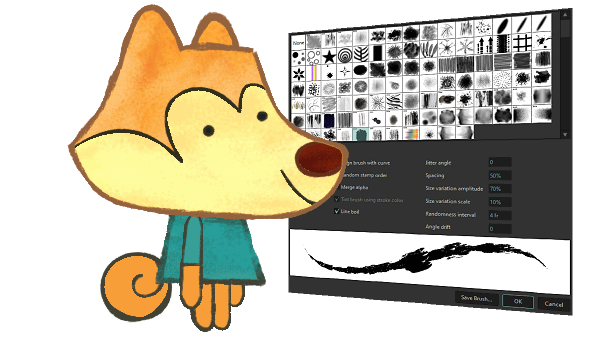 Smart Line Boil (New in Moho 14)
Get the look of traditional animation and have complete control over it! With the new Brushes' options, you can now apply line boil to any element in the animation. Define the interval of the boiling effect; at 1s, 2s, 4s or any rate you want. You can even set the value to 0 and the Smart Line Boil will happen only while the character is moving.
Easier Follow Through and Overlapping with Dynamics
(New in Moho 14)

Give your characters, backgrounds and props life without having to animate every single detail by hand. Bone Dynamics now work on Rotation, Scale and Translation! Easily create Follow Through and Overlapping animation with total control. Make each bone react to your world's conditions by defining their Weight and Gravity.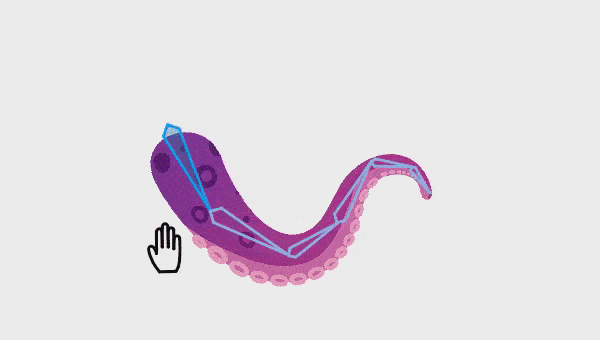 Delayed Constraints (New in Moho 14)
One bone to control everything! Control Bones now have a Delay value you can use to make Control Bones move either after or ahead of the original Bone's motion. The setup offers granular control, allowing you to establish delay per bone or create a motion through the 'Delayed Constraints' script
Vitruvian bones
Animating foreshortening and complex actions is easier than ever! Inspired by Da Vinci's Vitruvian Man drawing, Vitruvian Bones are a new and powerful way to rig your characters. The intuitive V-bones system allows you to alternate different drawings and sets of bones. For instance, you can have different sets of heads, each with its own controllers. Or the same limb in different perspectives. Vitruvian bones will allow you to group and animate them on the fly just by switching from one to the next. Apply them to any part of the body or even switch entirely different bodies!! This unique approach makes it easier to have rigged characters with the appeal of traditional animation.
Automate your animation with Physics, Particles, Dynamics
Quickly create complex realistic animation! Transform your scene in a gravity playground with the Physics engine, just hit play and see how the objects and characters bounce and react to each other's movement. Create rain, smoke, grass, bird flocks, crowds or anything you can imagine. The powerful Moho's Particle system allows you to mix it with all the animation tools to get exactly the result you are looking for. Add Dynamics to your characters, creating automatic Follow Through for ears, tails, antennas, clothes or anything you want to animate. Just move the character and the Dynamics will do the rest for you!
Add life to your scenes with Wind dynamics!

Take absolute control over the strength, direction and turbulence of wind and make your scenes come alive in minutes. Give your backgrounds and characters new life with Wind Dynamics!
Take full control of your animation with the Timeline, Graph mode and multiple interpolation modes
Control every detail of your animation with Moho's powerful yet easy to use Timeline. Set the interpolation mode to achieve exactly the timing you want, Smooth, Step, Easy In/Out and many more. Create cycles for any channel, Additive animation, Set intervals to animate on 2s, 3s or any frame number. Easily create natural movement with the Bounce and Elastic interpolations. Edit your animation with the Graph mode and much more! Moho's timeline is intuitive, clean and powerful!
Full 3D space and camera
Use Moho's 3D workspace to place and rotate your layers in it. Then move the camera around to easily achieve a multiplane effect. Have total control on how your layers look with the option to automatically keep the visual size on the layers you move in 3D. Import 3D objects from your favorite software or create basic elements directly in Moho with the Extrusion, Inflate and Lathe options for vector layers.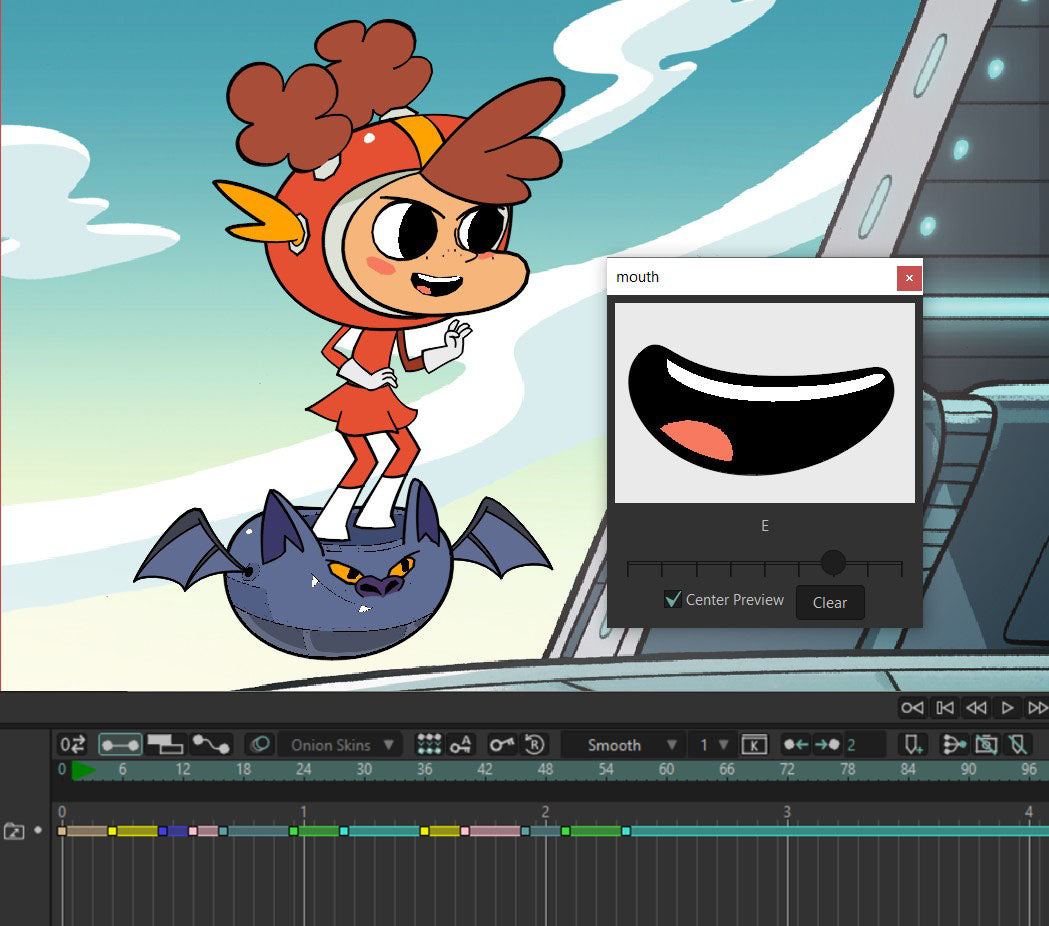 Lip sync tools
Animating Lip Sync is quick and precise. Simply import the voice audio and let Moho animate the mouth for you! Or, if you are looking for more control, you can quickly create your personalized lipsync by hand with the Switch selection window.
Personalize your experience with the updated Scripting Interface (New in Moho 14)
Moho 14 has updated the scripting Interface to Lua 5.4.4! Write your own tools, modify the existing ones or check out what other users have created. There are hundreds of powerful tools and improvements created by the community. Make Moho work exactly the way you want!
Better Timeline and frame-by-frame animation
(New in Moho 14)
The timeline, in Moho 14, is designed for swift access to frequently performed actions, such as Freeze Keys, Push Frames, Reset Pose, and Consolidate Channels, among others. Refining your rig has never been simpler, thanks to the introduction of the Toggle Frame Zero button. Enhanced frame-by-frame keyframes offer better control and manipulation, facilitating a seamless animation process. Additionally, the software introduces customizable shortcuts for seamless navigation between keyframes, including colored keyframes that further enhance your workflow.
Greatly improved SVG import (new in Moho 14)
Moho's great compatibility now is also real for vectors. The new improved SVG import allows you to import layers, gradients and masks. Design your characters, props and backgrounds in your preferred vector software, like Illustrator, CorelDraw, Affinity or Inkscape and animate them in Moho.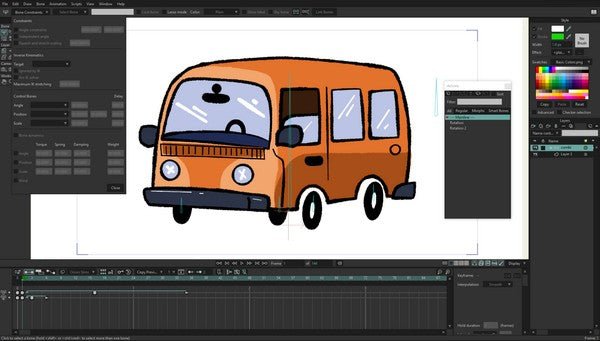 Improvements to the interface (New in Moho 14)
Moho 14 boasts many enhancements to its interface. Introducing more organized windows, values displayed in Percentages, Pixels, Frames, or Numbers, and many other improvements.
A big active community to learn and share
The Moho community is one of its biggest advantages. It is full of great users and is growing larger everyday. You can learn from others' experiences, ask for help, get feedback, share your work, share ideas and even contribute with your knowledge! Moho developers are also very active in the Official Forum and Discord Server. We are looking forward to adding you to the Moho family!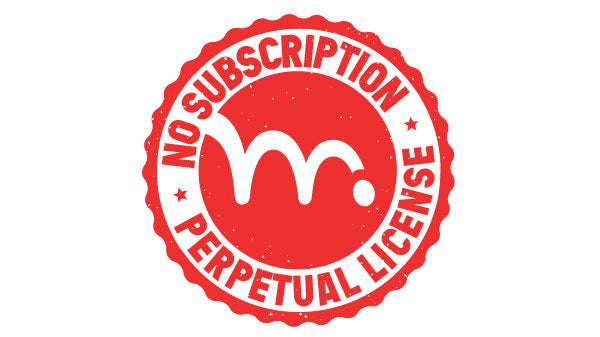 No subscription - Perpetual License only
Moho is developed with the animators in mind. Both Moho Pro 14 and Moho Debut 14 licenses are perpetual - one time purchase only!
Try Moho!
Moho has everything you need to quickly make amazing, professional animation. It's powerful, fun to use and with loads of features you won't find anywhere else!
Moho Pro 14
Powerful technology designed for 2D animation

---
Key Features
Includes all features from MOHO DEBUT, and also:
The most powerful 2D and easy to use rigging system on the market, including Smart Bones, Vitruvian Bones, FK & IK, Advanced Constraints, Shy bones and much more
Photoshop's PSD files integration to easily import, rig and animate your bitmap characters and backgrounds
Create personalized meshes to animate vectors and images. Simulate 3D rotations, animate gestures, bend and manipulate your pictures in any way you want. It's like having the power of a 3D character, but with the simplicity of 2D!
Automate your animation with a powerful set of physics features that includes Particles, Gravity, Dynamics and Wind! Create amazing looking characters and make your backgrounds feel alive
Advanced and easy to use Timeline, with Graph Mode and many editable interpolations to get exactly the movement you need
With Liquid Shapes Combine, Subtract, Intersect, Blend and animate shapes in unique ways.
GPU acceleration, Full HD Export capabilities, Separate Render Process 3D camera, Depth of Field, Depth Shifting and many to easily create multiplane scenes
Moho Debut 14
Create your own cartoons and animations in minutes!

---
Key Features
Powerful and easy to use rigging system
Content Library full of characters, props and backgrounds. Use them in your own animation or study how they are created to improve your own art!
Powerful Vector Drawing Tools: Apply brushes to your vector artwork to get a more natural look
Photoshop PSD files integration (up to 10 layers)
A complete rigging system to easily create powerful and easy to animate 2D puppets Timeline, Audio Recording & Sound Effects
Follow Path Tool, Video & Motion Tracking, Finish for Web, TV, Film & Stills.
Edit Multiple Layers Simultaneously
Moho Debut 14 now includes limited versions of PRO features like Meshes, Curvers and Smart Bones
System Requirements
Windows
Windows® 10, 11 or higher
64-bit OS required
2.0 GHz Intel Core i3 or higher
4 GB RAM or higher
1.6 GB free hard drive space or higher
OpenGL 4.1 supported graphics card required (1920x1080 recommended) **
Online connection required to perform online activation
Macintosh
macOS® X 10.15, 10.16, 11, 12, 13 or higher*
64-bit OS required
2.0 GHz Intel Core i3 or higher
4 GB RAM or higher
1.6 GB free hard drive space or higher
OpenGL 4.1 supported graphics card required (1920x1080 recommended) **
Online connection required to perform online activation
* Moho 14 is fully compatible with Apple silicon chips (M1) (M2)

** For high pixel density displays, minimum resolution will vary according to the operating system recommended scaling level. For example, if the OS recommends a scaling level of 200%, the minimum requirement may be as high as 2736x1824 resolution. Or if the OS recommends a scaling level of 150%, the minimum requirement may be as high as 2160x1440 resolution.
"We always call Moho 'our secret weapon'. We have been using it for years now and it's really amazing. At the beginning I was a purist, thinking that whatever we did had to be hand drawn, but after seeing Moho in action, I just wanted to use it more and more"
Tomm Moore
Co-director of 'Wolfwalkers' and 'Secret of Kells'. Director of 'Song of the sea'
"Moho has been a crucial creative tool for our key Cartoon Saloon productions. The Breadwinner, GOLDEN GLOBE and ACADEMY AWARD® Nominated animated feature film, heavily relied on Moho to seamlessly sit alongside hand-drawn animation. It's such a versatile tool and it has been the software choice of many of our key artists over the years"
NORA TWOMEY
Director of 'The Breadwinner' and 'My father's dragon'. Co-director of 'The secret of Kells'
"We always call Moho 'our secret weapon'. We have been using it for years now and it's really amazing. At the beginning I was a purist, thinking that whatever we did had to be hand drawn, but after seeing Moho in action, I just wanted to use it more and more"
Tomm Moore
Co-director of 'Wolfwalkers' and 'Secret of Kells'. Director of 'Song of the sea'
"Having worked with Moho on both TV series and feature films over the last 10 years and seeing it grow in capabilities and features over that time, I am very excited about what the future holds for the programme"
JEREMY PURCELL
Director of 'Puffin Rock The Movie'
"Having Moho in our pipeline is a blessing. Even if you have a small team, the quantity, variety and quality of the work the software helps to produce is impressive. It is a rigging animation tool that can live together with our more traditional style."
Katja Schumann
Head of Production at Cartoon Saloon