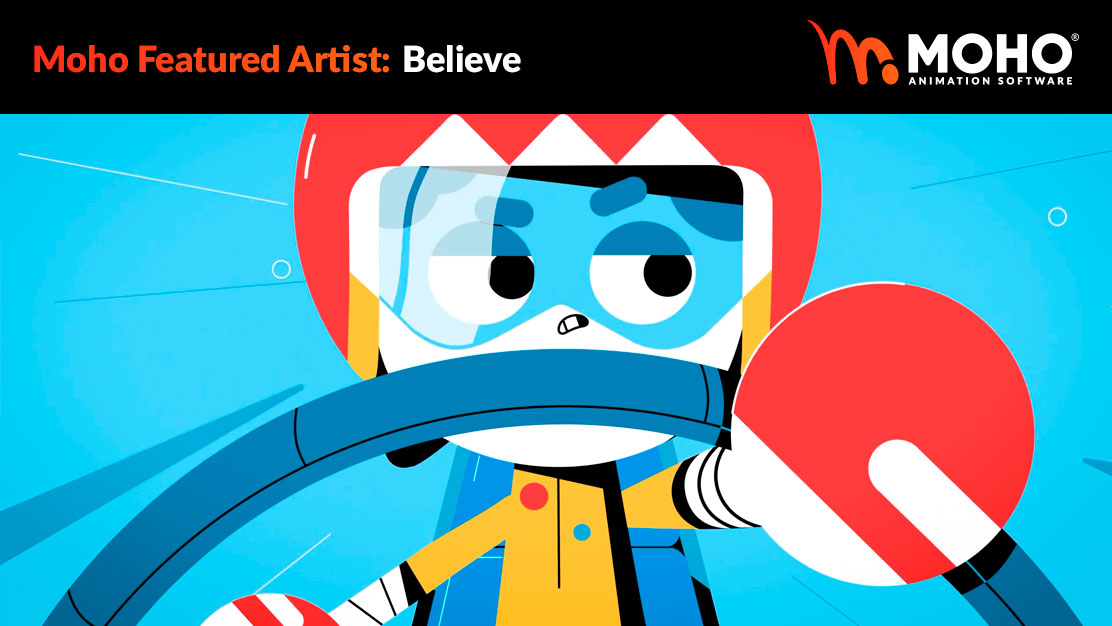 Moho Featured Artist: Believe
Mario Quinones @
This week our Moho Featured Artist is the animation & motion design studio Believe @believe.tv ! 🔥 Believe is based in Santiago de Chile and they use Moho as their main 2D animation software ✨ 


This interview has been responded by Diego Soto Luer - Believe's Animation Director. 
Tell us about Believe

Believe is a global design and animation company based in Santiago, Chile. With over a decade of experience, we have worked with some of the biggest brands in the world, like McDonald's, Coca-Cola, Samsung, L'Oréal, Nestlé, Kellogg's, Visa, Walmart, P&G, and Hasbro among others. We love 2D, 3D, stop motion and mixed media. But above all, we love telling stories that inspire. We partner with creative agencies and work closely with creative teams, always looking for fresh styles and impactful storytelling.



Where do you get inspiration?

I find references and inspiration in any place. In your everyday life, you can be out having a nice dinner, or walking, or watching tv and you will find something that inspires you. I think that as an artist, a thing we are always trying to do is to recreate life, the way everything moves, the way everything feels. That being said, we worked in advertising, which always has some trends that are pretty defined, so it's important to keep up to date with what our peers are doing, so sites like Stash, Motionographer, and Vimeo are huge influences. I like to start each day browsing through those to stay fresh.



How long has Believe been animating with Moho?

I started working with Moho ten years ago!. Back then it was called "Anime Studio", but the software has come a long way since those early days.



What's your hardware setup?


CPU :i7 9700K
32 GB ram
Graphics 1080ti
SSD Samsung 970 Evo
Monitor LG Ultra Wide  34 inches 10 bit
monitor resolution 3440 x1440
Windows 10



What do you like about Moho?


I love how intuitive and simple the workflow can be. I'm fascinated with how light the structure of it is, it's an all-in-one software solution. You can basically do everything within the software without having to export to another software to finish what you are doing.

For me, the greatest thing about it is the capacity to work in it as if you were a cel animator (which at the end you are, but a digital cel animator), with all the nodes, each of them with its own independent information. What I mean is, every node has its own keyframe, and that's awesome! It opens up a huge spectrum of possibilities of what you can do with the software.

And the rigging system, I think, is the best one out there!



How has Moho helped Believe in the creative process?


Of course! Moho has become a very important tool for us that allows us to expand the possibilities of what we can do. Not only can we do almost anything we imagine, but it also allows us to find better and faster solutions when faced with different challenges.

A lot of people think of Moho and instantly think of "2D Characters", but for me, I like to push the boundaries of what we are supposed to do with the software, and I end up animating all sorts of things, from props to liquids, you name it.










What's your favorite project made with Moho?


We've done so many projects over the years with Moho that is hard to pick just one. The first one that comes to mind is the "Trident" trilogy. A rare noir trilogy of commercials, where we got the chance to really experiment, and everything in there was done with Moho.

Another one that's really special to me is "Mother's Day". We needed to do an animation that looked like Japanese cel animation, and we only had 6 weeks to do everything, so Moho came to the rescue once again (and we did it before the Vitruvian Bones feature was even out!).



Would you consider Moho an industry tool?


Of course, it is! I mean, I dunno what defines an "Industry Tool", but if you can make a movie, a tv spot, a music video with it (all things done with Moho nowadays), then yeah, Moho is definitely an industry tool.



Where can we follow your work?