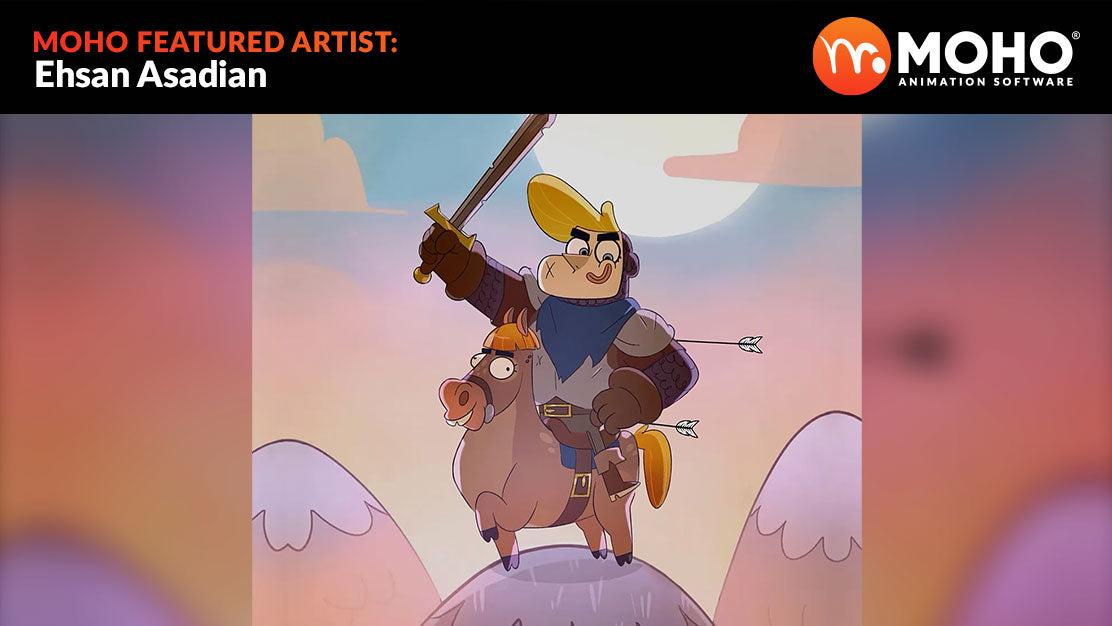 Moho Featured Artist: Ehsan Asadian
Mario Quinones @
This week our Moho Featured Artist is Ehsan Asadian, a very talented freelance animator from Iran! 🔥 Ehsan uses Moho as his main 2D animation software ✨ 
Tell us about you

My name is Ehsan Asadian, I'm 32 years old and live in Shiraz (Shiraz is a city in south-central Iran). I started working with 3D animation in 2009 and then moved to 2D in 2018. I mostly work as a freelance animator and I enjoy doing projects from all around the globe with talented artists, I'm always looking for new challenges. Working remotely is a plus for me because I'm a bit of a shy person and I prefer to be in my room focusing on projects. I recently started creating a series for YouTube but I'm in pre-production process and I can't talk much. I'll keep you posted!
Where do you get inspiration?


Actually, I really like watching great animation stuff. I can memorize all movements and this is my biggest talent so far.


What's your hardware setup?


Core(TM) i7 CPU- 970 @ 3.20GHz 3.19 GHz
16 GB RAM
2 monitors (23 inches )
What do you like best about Moho?


Moho is very practical. Everything you want is exactly right there, just blowing your mind! I love it because I can animate in the software whatever I plan. It has all the tools you need and Moho gives you the power of creation.
How has Moho helped you in your creative process?


Moho is fantastic! I can animate for hours and the only thing that I'm fully concentrated is about my character's movements. Because I hate distractions due to complicated software engineering, I can say that Moho's biggest feature is that it helps me to focus exclusively in my keyframes.


What's your favorite project made with Moho?

I did some character-logo animation for "Mascotte+" and I like it because I had very good moments with the production team. There's 2 more projects in production with "Mascotte+" that I can't share in the meantime due to NDA, but I'll keep you posted in my socials!
How has Moho improved your pipeline workflow?

First of all, Moho is so friendly and I can create projects from start to finish right away! Auto-save feature saved my life too many times and its rigging tools are so complete that I'm able to even create 100 episodes from my series. I can firmly say that Moho is my only 2D animation tool. Absolutely!
Where can we follow your work?

You can find me on Instagram as "Ehsan Asadian" and my resume on Linkedin.