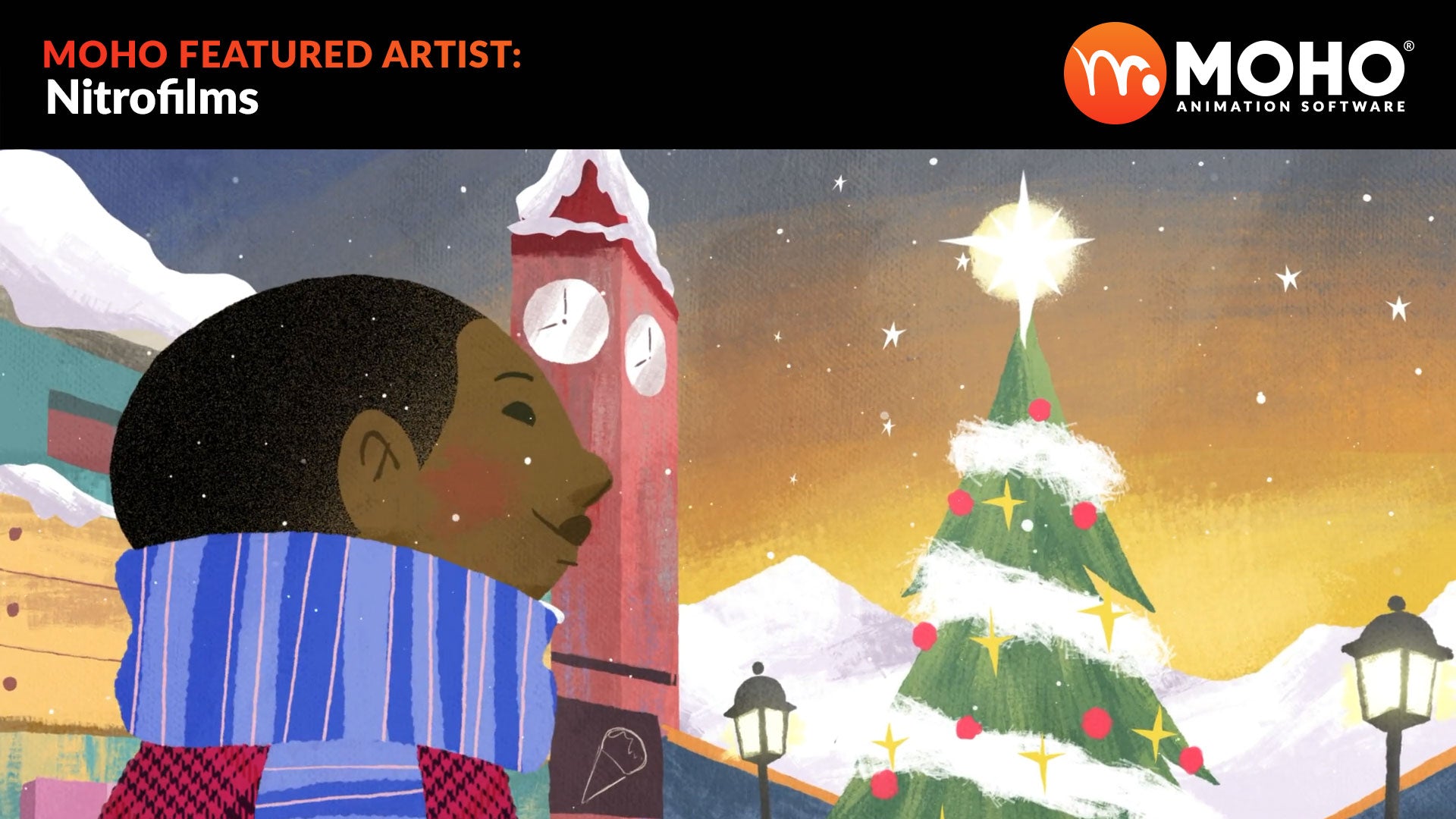 Moho Featured Artist: Nitrofilms
Mario Quinones @
This week our Moho Featured Artist is the Chilean motion design studio Nitrofilms 🔥  Moho is their 2D animation software when animating characters and much more! ✨ 
Tell us about yourself
 
NitroFilms is a motion design studio founded in 2013 by Nicolás Carrasco and Nicolás Ravet. We have specialized in 2D and 3D animation since the beginning, but we have been adapting according to technology, we have been evolving and we have been growing as professionals. The important thing is to enjoy the project we are working on, always learn something new and the client be happy with the result.


Where do you get inspiration?
 
Inspiration comes from different places depending on the project we are developing, sometimes from references, other times from movies, from images you see on social networks, etc. We think it's a bit romantic to think that it always comes from nature, from music, etc.


What's your hardware setup?
 
As we work with a lot of 3D, we use PCs with powerful hardware, the video card is essential, at the moment we have an RTX 3090 with 24GB of vram, 64gb or more of RAM and a lot of hard drive hahaha. Wacom tablet and a Huion kamvas 16 pro tablet display that is very comfortable to illustrate, animate or sculpt in 3D.
What do you like best about Moho?
 
Since its beginning, Moho has known how to incorporate essential tools when animating, it allows us to easily create custom rigs and actions.
Importing vectors directly into the software has been very useful for us, it allows us to optimize our work and, at the same time, handle multiple files, which makes it very versatile. Another aspect, very important for us, is its stability and speed when working. It really is a pleasure to work with Moho, regardless of the computer where you are.


How has Moho helped you in your creative process?
 
Moho has helped us solve animations that are very complex or expensive to develop in other software, it turns out to be friendly for our animators, they can exchange rigs or scenes from other projects and adapt them for a new use, move cameras and simulate turns! Something that would take us a few weeks we can solve quickly and with excellent results working on a single platform.


What's your favorite project made with Moho?
 
A couple of years ago we were commissioned to develop animations for John Legend and Still woozy video clips. In the development of both projects, Moho was incredible at solving character actions and movements based on existing material, incorporating textures, custom strokes and simulating traditional-style animation, which made the result very attractive. We were very happy with the result.
How has Moho improved your pipeline workflow?
 
Being a very versatile tool, it allows us to make key decisions in the development of our projects, both in terms of costs and speed of development.
Managing vectors, png, audio, image sequence, and even Obj allows us to develop a practically complete project without the need for other tools.


Where can we find you?
 
Check out our website
And don't forget to follow us on Instagram!
https://www.instagram.com/nitrofilms.tv/