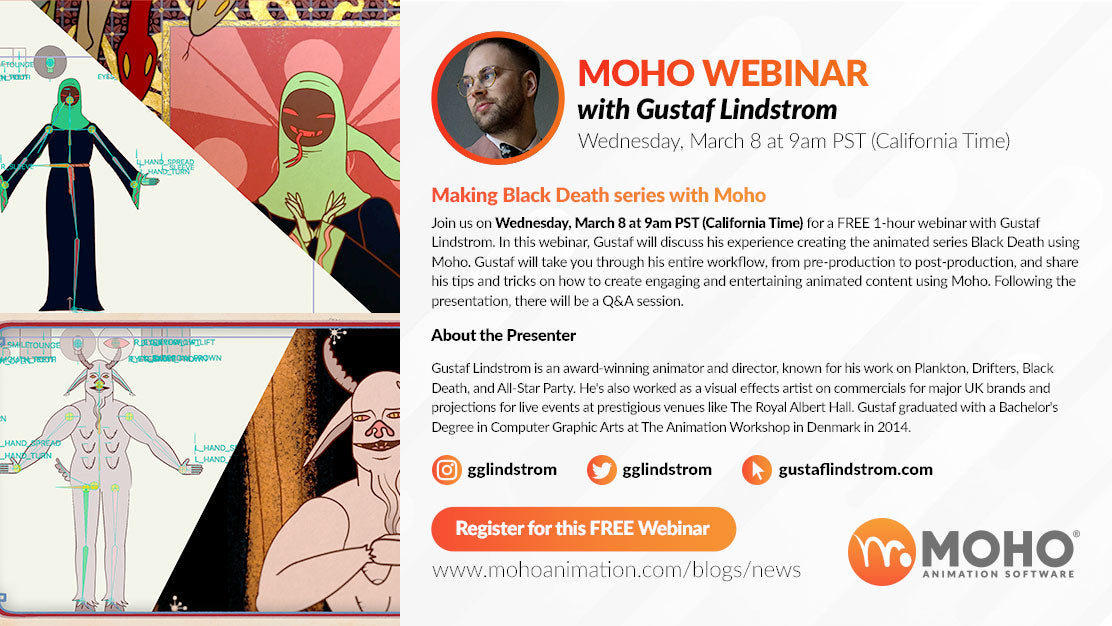 WEBINAR – Making Black Death series using Moho with Gustaf Lindstrom
Mario Quinones @
Please register for the Webinar – Making Black Death series using Moho with Gustaf Lindstrom:
Click here to register for this FREE Webinar
Join us on Wednesday, March 8 at 9am PST (California Time) for a FREE 1-hour webinar with Gustaf Lindstrom. In this webinar, Gustaf will discuss his experience creating the animated series Black Death using Moho. Gustaf will take you through his entire workflow, from pre-production to post-production, and share his tips and tricks on how to create engaging and entertaining animated content using Moho. Following the presentation, there will be a Q&A session.
Click here to register for this FREE Webinar
About the presenter
Gustaf Lindstrom is an award-winning animator and director, known for his work on Plankton, Drifters, Black Death, and All-Star Party. He's also worked as a visual effects artist on commercials for major UK brands and projections for live events at prestigious venues like The Royal Albert Hall. Gustaf graduated with a Bachelor's Degree in Computer Graphic Arts at The Animation Workshop in Denmark in 2014.

instagram: gglindstrom
Twitter: gglindstrom
Website: www.gustaflindstrom.com