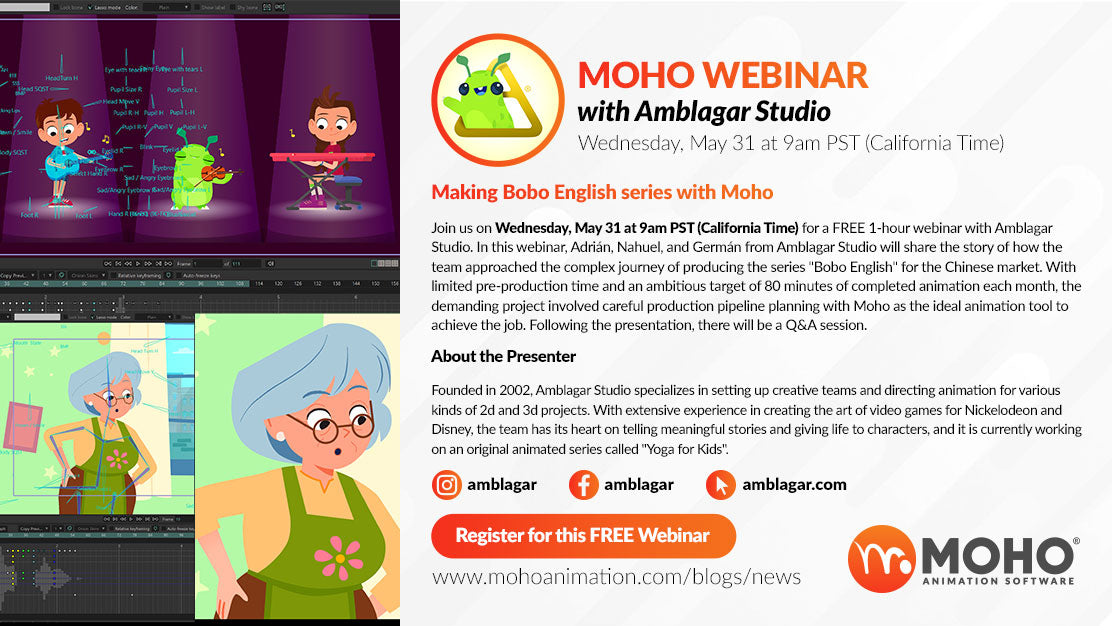 WEBINAR - Making Bobo English series with Moho presented by Amblagar Studio
Mario Quinones @
Please register for the Webinar – Making Bobo English series with Moho presented by Amblagar Studio:
Click here to register for this FREE Webinar
Join us on Wednesday, May 31 at 9am PST (California Time) for a FREE 1-hour webinar with Amblagar Studio. In this webinar, Adrián, Nahuel, and Germán from Amblagar Studio will share the story of how the team approached the complex journey of producing the series "Bobo English" for the Chinese market. With limited pre-production time and an ambitious target of 80 minutes of completed animation each month, the demanding project involved careful production pipeline planning with Moho as the ideal animation tool to achieve the job. Following the presentation, there will be a Q&A session.
Click here to register for this FREE Webinar
About the presenter
Founded in 2002, Amblagar Studio specializes in setting up creative teams and directing animation for various kinds of 2d and 3d projects. With extensive experience in creating the art of video games for Nickelodeon and Disney, the team has its heart on telling meaningful stories and giving life to characters, and it is currently working on an original animated series called "Yoga for Kids".

Instagram: amblagar
Facebook: amblagar
Website: amblagar.com