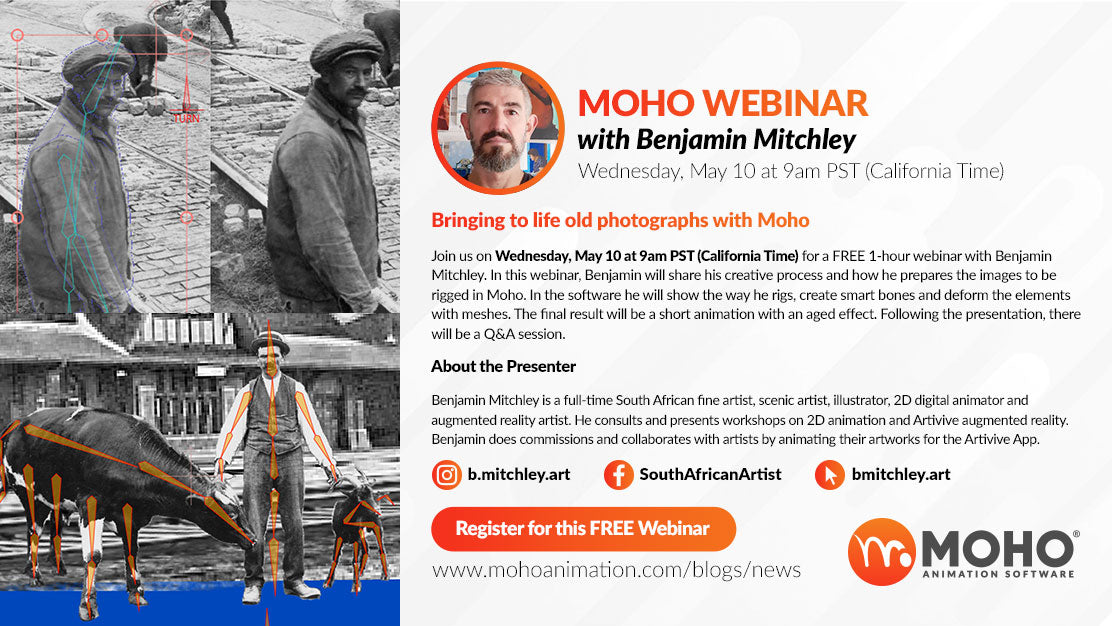 WEBINAR – Bringing to life old photographs with Moho with Benjamin Mitchley
Mario Quinones @
Please register for the Webinar – Bringing to life old photographs with Moho with Benjamin Mitchley:
Click here to register for this FREE Webinar
Join us on Wednesday, May 10 at 9am PST (California Time) for a FREE 1-hour webinar with Benjamin Mitchley. In this webinar, Benjamin will share his creative process and how he prepares the images to be rigged in Moho. In the software he will show the way he rigs, create smart bones and deform the elements with meshes. The final result will be a short animation with an aged effect. Following the presentation, there will be a Q&A session.
Click here to register for this FREE Webinar
About the presenter
Benjamin Mitchley is a full-time South African fine artist, scenic artist, illustrator, 2D digital animator and augmented reality artist. He consults and presents workshops on 2D animation and Artivive augmented reality. Benjamin does commissions and collaborates with artists by animating their artworks for the Artivive App.

Instagram: b.mitchley.art
Facebook: SouthAfricanArtist
Website: bmitchley.art