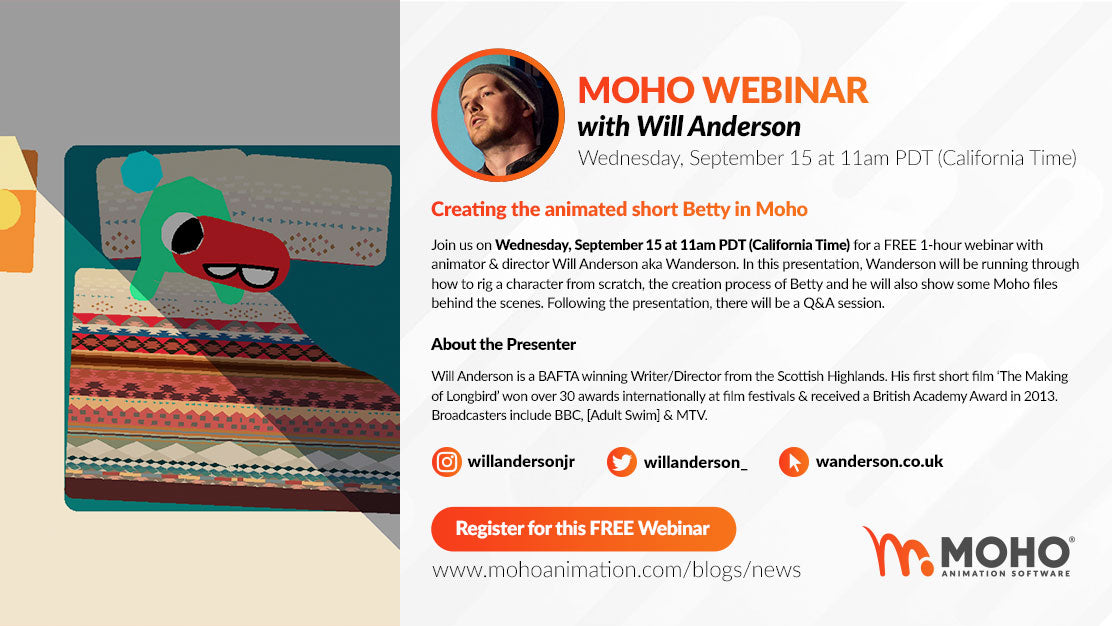 Webinar – Creating the animated short Betty in Moho with Will Anderson
Mario Quinones @
Please register for the Webinar – Creating the animated short Betty in Moho with Will Anderson:
Click here to register for this FREE Webinar
Join us on Wednesday, September 15 at 11am PDT (California Time) for a FREE 1-hour webinar with animator & director Will Anderson aka Wanderson. In this presentation, Wanderson will be running through how to rig a character from scratch, the creation process of Betty and he will also show some Moho files behind the scenes. Following the presentation, there will be a Q&A session.
Click here to register for this FREE Webinar
About the presenter
Will Anderson is a BAFTA winning Writer/Director from the Scottish Highlands. His first short film 'The Making of Longbird' won over 30 awards internationally at film festivals & received a British Academy Award in 2013. Broadcasters include BBC, [Adult Swim] & MTV.

IG: @willandersonjr
Twitter: @willanderson_
Website: Wanderson.co.uk