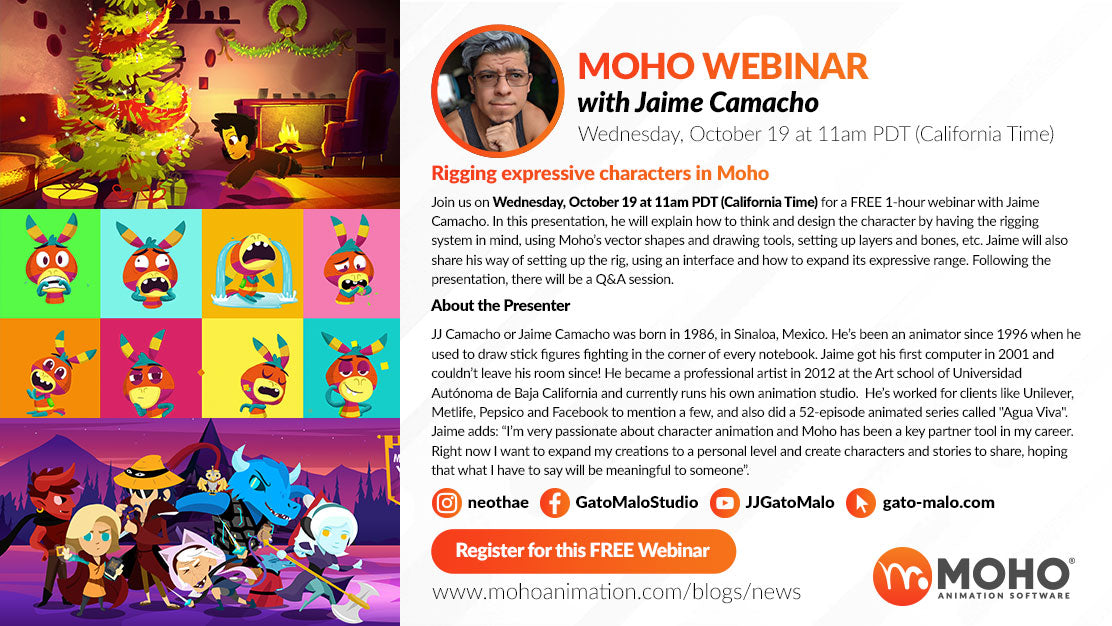 Webinar – Rigging expressive characters in Moho with Jaime Camacho
Mario Quinones @
Please register for the Webinar – Rigging expressive characters in Moho with Jaime Camacho:
Click here to register for this FREE Webinar
Join us on Wednesday, October 19 at 11am PDT (California Time) for a FREE 1-hour webinar with Jaime Camacho. In this presentation, he will explain how to think and design the character by having the rigging system in mind, using Moho's vector shapes and drawing tools, setting up layers and bones, etc. Jaime will also share his way of setting up the rig, using an interface and how to expand its expressive range. Following the presentation, there will be a Q&A session.
Click here to register for this FREE Webinar
About the presenter
JJ Camacho or Jaime Camacho was born in 1986, in Sinaloa, Mexico. He's been an animator since 1996 when he used to draw stick figures fighting in the corner of every notebook. Jaime got his first computer in 2001 and couldn't leave his room since! He became a professional artist in 2012 at the Art school of Universidad Autónoma de Baja California and currently runs his own animation studio. He's worked for clients like Unilever, Metlife, Pepsico and Facebook to mention a few, and also did a 52-episode animated series called "Agua Viva". Jaime adds: "I'm very passionate about character animation and Moho has been a key partner tool in my career. Right now I want to expand my creations to a personal level and create characters and stories to share, hoping that what I have to say will be meaningful to someone".

Instagram: neothae
Facebook: GatoMaloStudio
Youtube: JJGatoMalo
Website: gato-malo.com