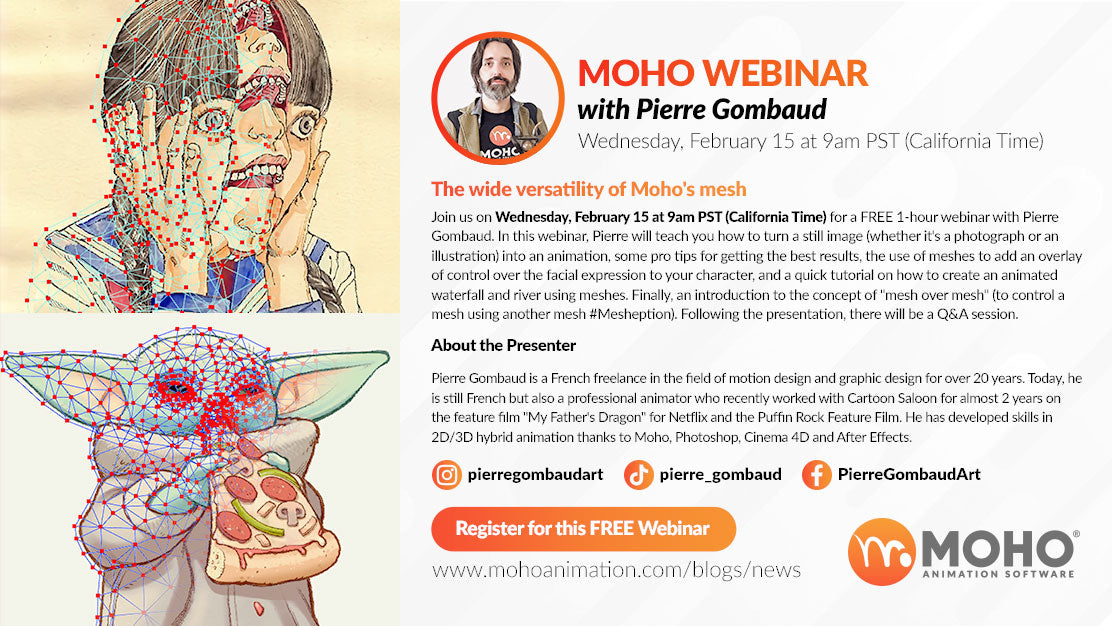 Webinar – 'The wide versatility of Moho's mesh' with Pierre Gombaud
Mario Quinones @
Please register for the Webinar – 'The wide versatility of Moho's mesh' with Pierre Gombaud:
Click here to register for this FREE Webinar
Join us on Wednesday, February 15 at 9am PST (California Time) for a FREE 1-hour webinar with Pierre Gombaud. In this webinar, Pierre will teach you how to turn a still image (whether it's a photograph or an illustration) into an animation, some pro tips for getting the best results, the use of meshes to add an overlay of control over the facial expression to your character, and a quick tutorial on how to create an animated waterfall and river using meshes. Finally, an introduction to the concept of "mesh over mesh" (to control a mesh using another mesh #Mesheption). Following the presentation, there will be a Q&A session.
Click here to register for this FREE Webinar
About the presenter
Pierre Gombaud is a French freelance in the field of motion design and graphic design for over 20 years. Today, he is still French but also a professional animator who recently worked with Cartoon Saloon for almost 2 years on the feature film "My Father's Dragon" for Netflix and the Puffin Rock Feature Film. He has developed skills in 2D/3D hybrid animation thanks to Moho, Photoshop, Cinema 4D and After Effects
instagram.com/pierregombaudart
tiktok.com/@pierre_gombaud
facebook.com/PierreGombaudArt