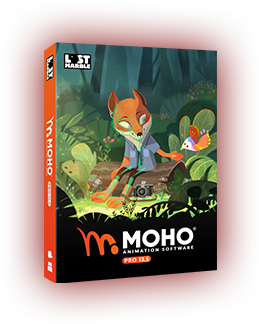 Moho Pro 13.5
Moho Pro 13 is changing the animation software game. Combining powerful animation
technology with state-of-the-art professional animation tools, you can make your
best animation projects come to life faster and easier.
Includes language support for: English, Spanish, French, German, Chinese (Simplified) and Japanese.
Be sure to check the System Requirements
Moho Debut 13.5
Moho Debut 13 is a professional-grade animation software that will forever change
what you create and how you animate. Whether you're a professional or you want to
animate like one, start using Moho 13 Debut today.
Includes language support for: English, Spanish, French, German, Chinese (Simplified) and Japanese.
Be sure to check the System Requirements
"We always call Moho 'our secret weapon'. We have been using it for years now and it's really amazing. At the beginning I was a purist, thinking that whatever we did had to be hand drawn, but after seeing Moho in action, I just wanted to use it more and more"
Tomm Moore
Co-director of 'Wolfwalkers' and 'Secret of Kells'. Director of 'Song of the sea'
"Moho has been a crucial creative tool for our key Cartoon Saloon productions. The Breadwinner, GOLDEN GLOBE and ACADEMY AWARD® Nominated animated feature film, heavily relied on Moho to seamlessly sit alongside hand-drawn animation. It's such a versatile tool and it has been the software choice of many of our key artists over the years"
NORA TWOMEY
Director of 'The Breadwinner' and 'My father's dragon'. Co-director of 'The secret of Kells'

"We always call Moho 'our secret weapon'. We have been using it for years now and it's really amazing. At the beginning I was a purist, thinking that whatever we did had to be hand drawn, but after seeing Moho in action, I just wanted to use it more and more"
Tomm Moore
Co-director of 'Wolfwalkers' and 'Secret of Kells'. Director of 'Song of the sea'
"We always call Moho 'our secret weapon'. We have been using it for years now and it's really amazing. At the beginning I was a purist, thinking that whatever we did had to be hand drawn, but after seeing Moho in action, I just wanted to use it more and more"
Tomm Moore
Co-director of 'Wolfwalkers' and 'Secret of Kells'. Director of 'Song of the sea'