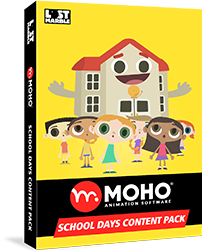 School Days Content Pack
It's back to school time with Moho, the best way to learn the basics of animation. The School Days content pack for Moho Debut and Pro gets you started with fun, pre-animated content and sample animation files.
SYSTEM REQUIREMENTS
Moho Debut 13.5 or higher, Moho Pro 13.5 or higher. Up to an additional 120 MB of Free Disk Space recommended.
School Days Content Pack Includes:
6 ready to animate School Kids
School house and School bus ready to animate
City background including animated clocktower
Back to School video
All animations used in creation of the Back to School Video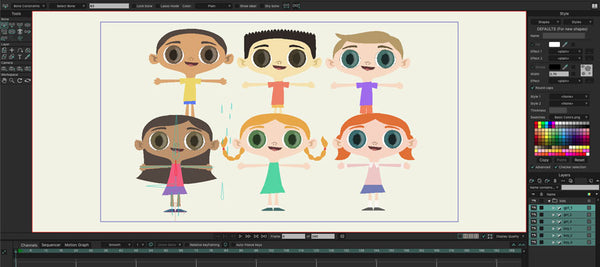 "We always call Moho 'our secret weapon'. We have been using it for years now and it's really amazing. At the beginning I was a purist, thinking that whatever we did had to be hand drawn, but after seeing Moho in action, I just wanted to use it more and more"
Tomm Moore
Co-director of 'Wolfwalkers' and 'Secret of Kells'. Director of 'Song of the sea'
"Moho has been a crucial creative tool for our key Cartoon Saloon productions. The Breadwinner, GOLDEN GLOBE and ACADEMY AWARD® Nominated animated feature film, heavily relied on Moho to seamlessly sit alongside hand-drawn animation. It's such a versatile tool and it has been the software choice of many of our key artists over the years"
NORA TWOMEY
Director of 'The Breadwinner' and 'My father's dragon'. Co-director of 'The secret of Kells'
"We always call Moho 'our secret weapon'. We have been using it for years now and it's really amazing. At the beginning I was a purist, thinking that whatever we did had to be hand drawn, but after seeing Moho in action, I just wanted to use it more and more"
Tomm Moore
Co-director of 'Wolfwalkers' and 'Secret of Kells'. Director of 'Song of the sea'
"Having worked with Moho on both TV series and feature films over the last 10 years and seeing it grow in capabilities and features over that time, I am very excited about what the future holds for the programme"
JEREMY PURCELL
Director of 'Puffin Rock The Movie'
"Having Moho in our pipeline is a blessing. Even if you have a small team, the quantity, variety and quality of the work the software helps to produce is impressive. It is a rigging animation tool that can live together with our more traditional style."
Katja Schumann
Head of Production at Cartoon Saloon